TURN A NUMBER-FILLED BLOG INTO A HEAD-TURNING INFOGRAPHIC
Has your brand generated articles or blogs that include lots of quantitative information? That data delivers compelling evidence of the arguments youíre advancing. But it may have been missed in written form. Another means of getting data-rich points across can be by presenting them as part of visually engaging infographics. Todayís audiences are increasingly attuned to gaining insights through graphics. Incorporating forceful and persuasive statistics within an eye-catching infographic spotlighted on social media can ensure your message reverberates in the memories of your target audience and gets shared with like-minded prospective customers.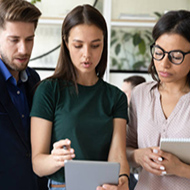 GIVE BEST-PERFORMING CONTENT SECOND LIFE IN SLIDESHARES
When it comes to repurposing content, simpler is better. And few means of repurposing content are quicker or easier than modifying successful blog content into a SlideShare or two. Everyone enjoys a good presentation, and a SlideShare replicates that experience, turning blog content into the visual part of a presentation. A SlideShare can be easily shared with your most desirable targets, and also serves up your content in a more memorable form. One additional benefit: A SlideShare may allow your team to slide in fresh, colorful new graphics that werenít part of the original blog.
Cataloging all ways of repurposing content remains beyond the scope of any newsletter. But read on for three more essential approaches in this edition of Net Results!
Video tutorials. Today, the ability to master many simple tasks exists as close as a YouTube video. Your brand can augment that channelís stockpile of instructional clips by repurposing your how-to articles into simple-to-follow video tutorials.
Greater depth. Longer-form podcasts may allow marketers to delve more deeply into subjects of interest to their audiences. Consider taking yesterdayís posts and expanding them into podcast episodes, adding new interview material with thought leaders.
UGC (user-generated content). Social media furnishes a forum for repurposing material that offered value in its original channels but could add more value over another. UGC, such as reviews or tweets, could be morphed into Instagram videos, for example.