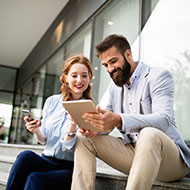 2. CREATE FRESH NEW CONTENT TAILORED TO THEIR INTERESTS
You've identified key decision makers. Now craft content commanding a vice grip on their attention. Write directly about their pain points and how your product solves those problems. The more tailored the content, the better. Consider 67 percent of prospects prize content specific to their job functions. Plan content strategy to ensure messages differ at early, middle and late stages of the sales funnel. When teams make buying decisions, create content speaking not to personal agendas but more to the team's collective goals.
At this point, you've pinpointed individuals you must reach at your critical accounts, and created content precisely tailored to those individuals' priorities. Now, complete two additional steps to ensure your ABM campaign meets desired goals.
• 3. Choose the right channels. Great content written to the right people lacks value if they don't view it. Research the channels these decision makers favor most often to consume content, and convey messages through these channels.
• 4. Gauge campaign success. Undertake detailed metric-based assessments of ABM campaigns to determine their level of success and learn where additional fine-tuning appears necessary to deliver more robust ROI.
• Bonus: Metrics to track. AMB campaigns should be tested on the basis of whether your targets are clicking on ads, following up with desired actions, engaging with your website, generating new prospects and meeting ROI goals.