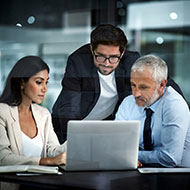 2. GAUGE FACIAL REACTIONS TO GRASP EMOTIONS BEHIND THEM
Customers' and prospects' emotional reactions to brands, products and marketing are profound indicators of whether they will or will not purchase. Advanced software and webcam images can be employed in facial coding, a technique permitting marketers to measure emotional reactions to marketing messages. This neuromarketing discipline lets brands spot even the most fleeting facial movements registering interest in aspects of brand marketing. Armed with this knowledge, marketers can fine tune promotional messages with the goal of spurring desired emotional responses.
Eye tracking and facial coding, when mixed with other techniques like biometrics, voice analysis and functional Magnetic Resonance Imaging (fMRI), are key to leveraging neuroscience marketing. For instance, brain scans of people viewing quit-smoking ads were able to predict call volume to smoking-cessation hotlines. Traditional surveys of ad effectiveness were not. Read on for yet one more strategy marketers find indispensable.
We have discussed the importance of using neuromarketing to gauge emotions. Neuroscience can also be used to go deeper into a probe of emotions, by studying sensory reactions that can spark customers' emotions.
Sensual triggers. The senses – vision, hearing, taste, touch and smell – are gateways into human emotions. Neuromarketing can help marketers zero in on a sensory, or better a multi-sensory, experience that prompts emotions leading to purchases.
Sensory surroundings. Many products appeal to one or more senses. Think of how a power saw feels in hand, and its sound as it slices building materials. Neuroscience can pinpoint sensory cues that can mean more finely-calibrated marketing campaigns.