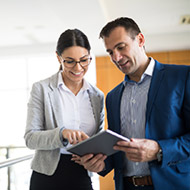 2. HYPER-CUSTOMIZE ALL INTERACTIONS WITH CUSTOMERS, PROSPECTS
Gain insights into your best customers' wants, needs and motivations. That wisdom can help you tailor marketing messages specifically to each customer group. The revelations are buried in big data so voluminous they are beyond human analysis -- but not beyond machine analysis. AI can analyze that insight-rich data, helping marketers present compelling messages to customers that fit them better than an expertly tailored suit, and lead them to purchase decisions.

Attaining optimal ad placements and perfectly customizing marketing messages to each recipient are critical strategies in making your marketing dollars work harder. But AI and machine learning can do more to help you achieve terrific ROI. Read on.
3. Pinpoint gaps, opportunities. You believe your content strategy is as good as content strategy gets. But think again. AI and machine learning can spot gaps in your content, letting you take full advantage of otherwise missed chances.

4. Deliver customer satisfaction. Successful marketing rests on customers being delighted with your product. AI-powered customer service responds instantly and efficiently to requests, and also helps customers help themselves.

Bonus: Sentiment Analysis. Emerging AI advances enable marketers to analyze customers' facial expressions and voices to gauge happiness or disfavor. Knowing how customers are feeling can help companies better serve them.