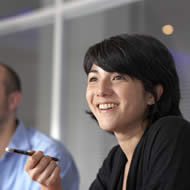 KNOW THE RIGHT TIMES TO BRING YOUR CEO INTO SOCIAL MEDIA
These are among best times to include CEOs in social media messaging. Rely on the CEO to convey the company is transparent and upfront with customers. Be sure their engagement is sympathetic to customers' needs. Proactively make the CEO visible on social media before situations occur that call for reassurance. If you only include the CEO after suffering bad publicity, his or her message will carry less credibility.
We've examined key reasons to depend on CEOs in social media campaigns and the occasions when they should be included. Now let's focus on success stories authored by companies whose CEOs play critical roles in their social media strategy.
Investing your company with the personality of its leader can pay dividends by boosting customer interest. Virgin Group CEO Richard Branson uses social media to tell followers about his adventurous exploits away from the office.
Social media can be the perfect place to personally and sincerely express gratitude. Few CEOs are better at leveraging this opportunity than Apple CEO Tim Cook, who regularly tweets his thanks to employees and customers.
Using social media to convey thoughts about charitable or social causes important to the CEO can help increase customer engagement. Huffington Post CEO Arianna Huffington employs social media to share thoughts about giving back.