MAKE LIFE EASIER FOR TIME-PRESSED EDITORS
The editors you want to reach are many things. One thing they're not is idle. Save them precious minutes and you'll be valued. Read and follow their sites' guidelines. Pitch releases or content aligning precisely with their publication's mission. Suggest ideas that will help them increase visitors to their site. Above all, put yourself in their shoes.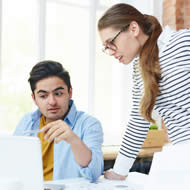 PROVIDE INTRIGUING HEADLINES, HELPFUL STATS AND BENEFIT-ORIENTED COPY
Editors get thousands of product news releases monthly. You must stand out from your rivals. First, create catchy headlines likely to grab the eyes of both editor and readers. Laser focus on your area of expertise. Be detailed rather than vague. Back your points with well-researched quantitative support. Provide copy directly benefiting readers. Be persistent in providing winning content, without becoming a pest. These steps will help make editors' lives easier, spurring them to look favorably upon a business relationship with you.
The above guidelines will help you begin forging a strong rapport with online media editors. To further differentiate you and your company's content from competitors, prioritize these additional strategies for winning -- and keeping -- editors' approval.
Your content should position you as an expert providing fresh, highly-valued insight readers can find nowhere else. Avoid sales promotional copy about your company. Editors cite overt brand promotion as the biggest single drawback of contributed content.
Fact check content for inaccuracies. If editors see your material as consistently accurate, it will save them time, increase their confidence in your content and gain your company added exposure.
The objective of the editor –and your company – is reaching the largest qualified audience. Devise a social medial strategy to share links to the editors' website, when it features content about your company's products.